---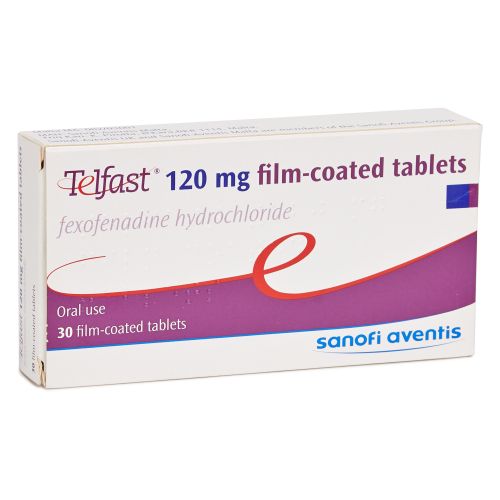 Description
Telfast (fexofenadine) is a fast effective treatment for hayfever symptoms.
What is Telfast (fexofenadine hydrochloride)?
Telfast (fexofenadine) is a prescription medication for fast, non drowsy relief of the symptoms of Hay Fever allergies. Telfast 120mg tablets contain the active ingredient fexofenadine hydrochloride (HCl), which is a type of medicine called a non-sedating antihistamine.
What is Allegra?
Allegra is another brand name, which is popular in USA for fexofenadine hydrochloride. In the UK, Allegra is not available but fexofenadine is sold under the brand name Telfast.
How To Take
The recommended dose is one tablet (120 mg) daily. Take your tablet with water before a meal.
If you take too many tablets, contact your doctor or the nearest hospital emergency department immediately. Symptoms of an overdose in adults are dizziness, drowsiness, fatigue and dry mouth. If you forget to take Telfast do not take a double dose to make up for a forgotten tablet.
Side Effects
Like all medicines, this medicine can cause side effects, although not everybody gets them.
Common side effects (may affect up to 1 in 10 people):
headache
drowsiness
feeling sick (nausea)
dizziness
Uncommon side effects (may affect up to 1 in 100 people):
Patient Information Leaflet
Always read the patient information leaflet before commencing treatment. Patient information can be found here.
Alternatives
Over the counter anti-histamines
There are a large number of over the counter anti-histamines which can be effective for relieving the symptoms of Hay Fever. Speak to your pharmacist for more information.