---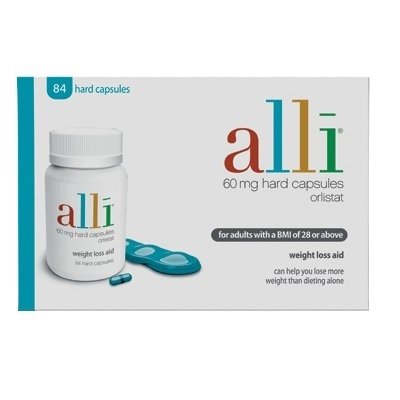 Description
Alli is the only medicine currently licensed in the EU to help you lose weight. Alli prevents your body from absorbing the fat from the food you eat. By reducing the amount of fat that is absorbed, Alli is clinically proven to help you lose up to 50% more weight than with dieting alone.
What Is Alli?
Alli (Orlistat 60mg) is used in the treatment of obesity. Alli prevents your body from absorbing the fat from the food you eat. By reducing the amount of fat that is absorbed, Alli can help you to lose weight more easily.
Alli isn't a magic bullet which makes dieting easy; it's designed to be used with a support programme, and can reward your efforts by boosting your weight loss. So for every 2 lb you work to lose, adding Alli can help you lose 1 lb more. Alli works by blocking 25% of the fat you eat from being absorbed so makes your healthy choices even healthier.
When you follow the Alli programme, you have access to a range of support tools to help you on your weight loss journey. You'll also learn new habits to help you reach and maintain a healthier weight; from setting your personal daily fat and calorie targets based on your current weight and activity levels, to which foods to avoid and dealing with cravings.
How Alli Works?
The active ingredient (orlistat) in Alli is designed to target fat in your digestive system. It stops about a quarter of the fat in your meals from being absorbed. This fat will pass out of the body in your stools. You may experience diet-related treatment effects (see section 4). It is therefore important that you commit to a lower-fat diet to manage these effects. If you do, the action of the capsules will assist your efforts by helping you to lose more weight compared to dieting alone. For every 2 kg (4 lb) you lose from dieting alone, Alli can help you lose 1 kg (2 lb) more.
How To Take
Alli should be taken three times a day at mealtimes - before, during or up to one hour after each meal.
Alli capsules should be swallowed whole with water.
Alli chewable tablets should be chewed and swallowed. No water is needed with Alli chewable tablets.
Do not take more than three capsules or chewable tablets a day.
Don't take Alli if you're going to eat a meal that doesn't contain fat or if you miss a meal.
You should also take a multivitamin every day at bedtime to ensure adequate absorption of vitamins A, D, E and K.
Side Effects
The most common side effects of Alli (Orlistat 60mg) include:
oily rectal discharge
passing gas with oily discharge
urgent need to have a bowel movement
oily or fatty stools
increased number of bowel movements
being unable to control your bowel movements
Patient Information Leaflet
Always read the patient information leaflet before commencing treatment. Patient information can be found here.
Alternatives
There are typically two different kinds of weight-loss prescription medications. Some medications are appetite suppressants. Xenical is another form of weight-loss medication that works in your digestive system to block about one third of the fat in the food you eat from being digested. There are hundreds of weight loss products on the market, but few have been clinically proven to be safe and effective.
You may want to consider counselling at The London Centre.