---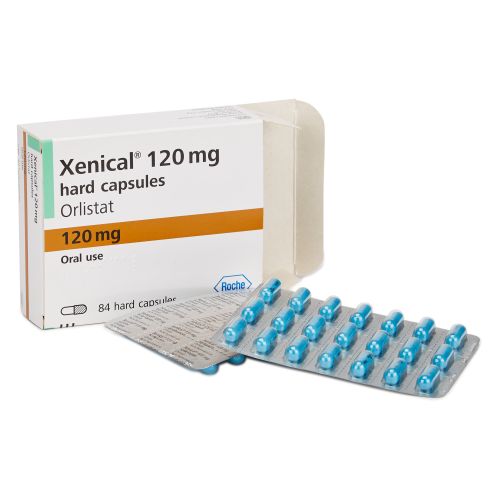 Description
Xenical is a prescription medication which has been clinically proven to help you lose weight.
What Is Xenical?
Xenical (Orlistat 120mg) is used in the treatment of obesity. Xenical prevents your body from absorbing the fat from the food you eat. By reducing the amount of fat that is absorbed, Xenical can help you to lose weight more easily.
Targets
When you start taking Xenical you will be given a weight loss target for the first 3 months. This target is 5% of your weight. If you succeed in losing 5% of your weight, you will be eligible to continue taking Xenical. Pharmacists can supply Xenical for up to two years.
Each time Xenical is supplied you will need to supply your pharmacist with your current weight. If your weight goes up in any three months, Xenical will need to be stopped. If you lose enough weight for your BMI to fall below 28, Xenical can no longer be supplied.
Some people do not succeed in losing weight with Xenical. These people should not be disheartened. They can have a break of 6 months and try again later, or see a doctor or a weight loss clinic as alternatives. Losing weight, like many things that are hard to achieve, takes perseverance and resolve, so do not give up.
How To Take
The recommended dose is one Xenical capsule by mouth with liquid at each main meal that contains fat. You should take Xenical up to three times a day in conjunction with a reduced-calorie diet. Each time you take Xenical, your nutritionally balanced meal should contain no more than about 30% of calories from fat.
You should evenly divide your daily intake of fat, carbohydrates and protein over three main meals. Take Xenical during meals or up to 1 hour after a meal. If you occasionally miss a meal or have a meal without fat, you can omit your dose of Xenical. Doses above 120 mg three times daily have not been shown to provide an additional weight-loss benefit. You should try to follow a healthy eating plan, such as one from which no more than 30% of calories come from fat. Following this eating plan will help you lose weight while decreasing some of the possible gastrointestinal effects you may experience while taking Xenical.
Because Xenical interferes with your body's absorption of some fat-soluble vitamins, you should take a daily multivitamin supplement that contains vitamins A, D, E and K and beta carotene once a day at least 2 hours before or after taking Xenical, such as at bedtime.
Effectiveness
Xenical has been extensively studied. In clinical trials, almost twice as many patients who received Xenical, achieved an average weight loss of 10 percent or more of their body weight in one year, compared to those on diet alone.
Side Effects
The most common side effects of Xenical include:
oily rectal discharge
passing gas with oily discharge
urgent need to have a bowel movement
oily or fatty stools
increased number of bowel movements
being unable to control your bowel movements
Patient Information Leaflet
Always read the patient information leaflet before commencing treatment. Patient information can be found here.
Alternatives
There are typically two different kinds of weight-loss prescription medications. Some medications are appetite suppressants. Xenical is another form of weight-loss medication that works in your digestive system to block about one third of the fat in the food you eat from being digested. There are hundreds of weight loss products on the market, but few have been clinically proven to be safe and effective.
You may want to consider counselling for The London Centre.